As an Amazon Associate, T Nation earns from qualifying purchases. When you buy something, using the retail links in our articles, we may earn a small commission. T Nation does not accept money for editorial reviews. Read more about our policy.
New Balance MT10V1 Minimus
From Amazon
Vibram outsole with flex grooves, midfoot wrap, high-traction outsoles.
Though technically a trail running shoe, lifters who want to keep things minimal love this design. It's super flexible and light with a 4 mm drop, but the forefoot wrap keeps it secure. I wore these while being trained by Christian Thibaudeau. The shoes survived. I barely did.
– Chris Shugart
Nike Metcon Sport
From Amazon
Synthetic skins at the toe and heel for durability. Drop-in midsole enhances lateral stability.
CrossFitters love their Metcons, as do fitness fanatics who like to do a little bit of everything, from lifting to running to box jumping. This lace-less model is built for general lifting, but has been tweaked for speed drills and agility work. And anyway, who has time to tie their shoes when they're trying to beat the dreaded WOD timer?
– Chris Shugart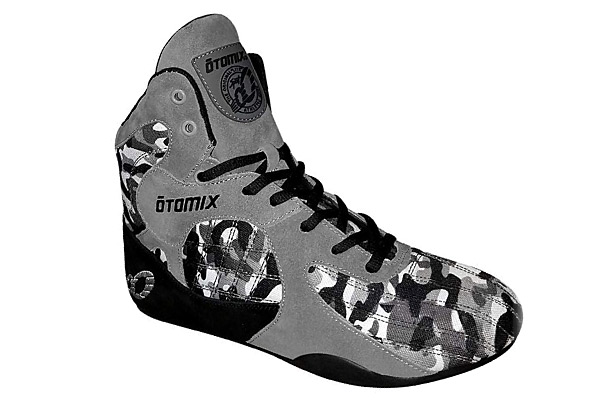 Otomix Stingray Escape
From Amazon
Flat-soled shoe for bodybuilding, MMA, and wrestling with extra ankle support.
There was a time when you really weren't considered a bodybuilder if you didn't rock a pair of these. All the pros wore them, along with their baggy, Rex Kwon Do "muscle pants." (American flag pattern, naturally.) Well, they're still around and their fans are rabid for them. Lifters love their thin, flat soles and feather-light feel. Are they ugly? You're damn right they're ugly! But man, they feel great under a heavy barbell.
– Chris Shugart
ADIDAS Powerlift 4
From Amazon
Narrow, snug fit. Lightweight, locked-down feel. Lace closure with a hook-and-loop strap. Open forefoot and flexible toe design.
Olympic weightlifting shoes used to be simply designed: canvas, big ugly strap across the top, elevated heel. They were cheap too. Today you can find $200 weightlifting shoes with all the bells and whistles. But do you need that? Probably not. ADIDAS Powerlifts are old school. Their simple, platform-tested design will get the job done.
– Chris Shugart
Converse Chuck Taylor All Star Leather High Tops
From Amazon
Leather high-top sneakers. Rubber sole and toe cap.
You know this shoe. You probably already own a pair or three. So what sets these Chucks apart? Instead of canvas, they're leather. Studies show that deadlifting in leather adds 20 pounds to your top lift. Okay, I just made that up, but they look cool and I've been wearing the same pair for years without a single sign of wear and tear.
– Chris Shugart