I once took a heaping tablespoonful of cheap protein powder and crammed it past my lips. It quickly absorbed whatever moisture I had in my mouth and formed a plaster of Paris brick, blocking off most of my air supply.
I almost died.
Years later, after watching the first Rocky movie, I cracked open a half-dozen eggs and swallowed them whole. Hours later, salmonella poisoning kicked in.
I almost died.
Once, while camping, I sliced up some wild mushrooms and tossed them into the frying pan with the steak I was cooking. They were the wrong type of mushrooms.
I almost...well, you know.
I've since grown a little more cautious regarding food. I actually follow recipes. In fact, I daresay you've never eaten until you've had Louisiana Back Bay Beans and Burger a'la Luoma.
But as good as that dish is, it pales in comparison to the creations of Chef Lisa.
For those of you who don't know her, "Chef Lisa"–Lisa McGovern – is a regular visitor to T-Nation's sister site, Muscle With Attitude. Aside from being a bodybuilder and a member of the "Hudson Valley Horrors" roller derby team in upstate New York, Lisa is a CIA-trained chef. For those of you who don't know roux from Bounty Beef stew, CI A stands for Culinary Institute of America. It is a very big deal in the world of cooking.
Lisa has worked alongside many of the top chefs in New York, including an internship with award-winning Chef and Author Debra Ponzek. She specializes in menu development and personalized recipe services for private clients, coaches, and trainers. She also works part-time as a caterer for elegant party settings.
So you can imagine what happens when she takes healthy bodybuilding foods and jazzes them up with the very best culinary science. Hell, you don't half to imagine. We asked Chef Lisa to come up with her top bodybuilding recipes for guys.
Oh they're fancy, some even schmancy, but if you can use a paring knife without slicing open an artery or operate a stove without incinerating the family poodle, you too can pull off any one of the following recipes. – TC
Note: All nutrition information is approximate per portion. Sizes of some items are averages and estimates.
1 – Grilled Pork Tenderloin with Napa Cabbage Sesame Slaw
Grilled or Roasted Pork Tenderloins
Ingredients:
Pork Tenderloins
Olive oil (not extra virgin)
Salt
Fresh Ground Pepper
Method:
Preheat grill med/high or preheat oven to 400 degrees.
Rub tenderloins with olive oil, salt and pepper liberally all over the outside on all sides.
Grill or Roast for about 18-20 minutes. It takes about 12-15 minutes per pound and most tenderloins weigh a little over a pound, so they don't take long to cook.
Let the tenderloins REST without touching them for at least 10-15 minutes after cooking. This will insure that they stay juicy and continue to cook for a few minutes after pulling them off the grill or out of the oven.
Per ounce of pork tenderloin:
Calories 48
Fat 2 g
Carbohydrates 0g
Protein 8 g
Napa Cabbage Sesame Slaw
Makes 8 portions
Ingredients:
1 head Napa (Chinese) cabbage
1 yellow pepper
1 red pepper
1 red onion
1 bunch cilantro
Juice and zest of 1 lime or lemon
3 Tbsp. extra virgin olive oil
1 Tbsp. toasted sesame oil
Salt and fresh ground pepper to taste
Method:
Cut cabbage in half length wise. Cut out core. Slice into small strips cross ways. Place in large bowl.
Cut out stem and seeds from peppers and cut into strips.
Cut onion into strips.
Make dressing in separate bowl or small food processor by squeezing lime or lemon, salt and pepper and zest, and slowly adding oils to the juice.
Chop cilantro lightly and add to vegetables.
Leave the veggies separate from the dressing in a zip lock container in the fridge (they will stay nice for up to a week). Right before eating (or 1/2 hour before eating) toss the veggies with a little bit of the dressing to keep them crispy and fresh. Taste and adjust seasoning with salt and pepper.
Per portion:
Calories 107
Fat 7g
Protein 2g
Carbohydrates 11g
Dietary Fiber 3.5g
To Serve:
Allow the tenderloins to rest while you toss the slaw with the dressing.
Place a large scoop of the Napa slaw on the plate, then top with a few slices of the pork tenderloin. Garnish with fresh cilantro and a slice of lime if desired.
2 – Seared Salmon served with Quinoa Salad with Cucumbers and Fresh Mint
Seared Salmon
Ingredients:
Wild Salmon filets
Salt
Fresh ground pepper
Olive oil (not extra virgin)
Method:
Preheat a cast iron pan or other heavy bottom pan on med/high on top of the stove.
Salt and pepper liberally both sides of fish.
Add a bit of olive oil to the pan and then place the fish NON skin side down first and don't touch it for 3 minutes.
Flip to the other side and don't touch it for 3 minutes.
If the filet is very thick you may have to turn down the heat and leave it on for another few minutes.
Remove the filets to a pan or rack and let them rest for a few minutes before eating.
Per ounce:
Calories 39
Fat 1 g
Carbohydrates 0g
Protein 7g
Quinoa Salad with Cucumbers and Fresh Mint
Makes 6 portions
Ingredients:
1 cup raw quinoa
2 cups vegetable stock
1 large clove garlic
1 med bay leaf
1 tsp. fresh ground pepper
1 tsp. salt
Finish with
1 Tbsp Extra Virgin Olive Oil
2 Tbsp fresh lemon juice
2 Tbsp fresh chopped mint leaves
1 cup small diced seedless cucumbers
1/2 cup small diced red onion
Method:
Place the quinoa in a large sieve and rinse under running water for about 5 minutes, stirring occasionally until the water runs clear.
Place stock, garlic, bay leaf, pepper, and salt in a heavy saucepan. Bring to a boil over med high heat.
Add the quinoa and return to a boil. Reduce the heat and simmer until the quinoa looks glassy or translucent and starts to open up. About 15 minutes.
Remove from heat. Let it sit for about 10 minutes. The quinoa can be frozen at this point for future use if desired.)
Stir in the olive oil, lemon juice, fresh mint, cucumber, and red onion with a fork fluffing up the grains as you toss it lightly.
Per portion:
Calories 188
Fat 5g
Protein 6g
Carbohydrates 30g
Dietary Fiber 3g
To Serve:
Place a large spoonful of quinoa in middle of plate. Lay a salmon filet on top and then garnish with fresh mint and slice of lemon if desired. This can be eaten warm or chilled.
3 – Italian Turkey Meatloaf
Makes 8 portions
Ingredients:
2.5 lbs extra lean ground turkey
1 small onion
1 small red or green pepper
2 ribs celery
1/2 cup zucchini (optional)
1/2 cup broccoli stems (optional)
1 Tbsp garlic chopped
Dried Spices:
1 Tbsp. dried thyme
1 Tbsp. dried basil
1 Tbsp. dried parsley
1 tsp. fresh ground pepper
1 tsp. kosher salt
4 egg whites
2 cups rolled oats
Method:
Cook all veggies until just done and soft, adding the garlic during the last minute or so of cooking (about 12-15 minutes total). Set aside to cool.
Pre heat oven to 425 degrees.
Put all ingredients together in a large bowl and mix well with your hands.
Rub 2 loaf pans liberally with olive oil or use silicone pans (works best). Fill loaf pans with meatloaf mixture.
Place pans on baking sheet to catch any drips and bake for approximately 35-45 minutes or until it reaches 135 degrees with a meat thermometer.
Remove from oven and let rest for at least 20-30 minutes.
Turn out onto a cutting board and slice into thick slices.
Per portion:
Calories 312
Fat 13g
Protein 30g
Carbohydrates 17g
Dietary Fiber 1g
To Serve:
Serve with roasted apples or pears for a delicious meal.
4 – Chicken Apple Salad
Makes 2 portions
Ingredients:
10 oz. grilled chicken breast
2 small granny smith apples
1/2 red onion
1 red bell pepper
1-2 jalapenos
1 lime, juice and zest
2 Tbsp. extra virgin olive oil
1 handful fresh cilantro
Salt and fresh ground pepper
Method:
Cut chicken into strips, apple slices, red onion slices, pepper slices. Put all this into a large bowl.
Zest lime and add to bowl.
In small food processor add jalapeno, juice of the lime and process. Add olive oil and process. Pour this over the salad and mix. If you don't have a food processor, mince jalapeno with a knife and add to lime juice. Wisk in olive oil, then add to bowl with chicken.
Add lightly chopped cilantro and salt and pepper. Mix well.
Let this sit for about an hour for the flavors to mix.
Per portion:
Calories 354
Fat 15g
Protein 30g
Carbohydrates 28g
Dietary Fiber 5g
To Serve:
Serve on top of a green salad for lunch. Great after it sits in the fridge for a day also. Make a large batch and eat for a few days.
5. Steak Chili
Makes 8 portions (for slow cooker or large pot).
Ingredients:
2 Tbsp. olive oil
2 large yellow onions chopped
2 large green bell peppers chopped
1 large red pepper, chopped
1 cup chopped celery
2 pound top round or bottom round steak, cut into 1/2 inch cubes or smaller.
2 Tbsp. chili powder
1 tsp ground cumin
1/2 tsp. leaf oregano
2 Tbsp chopped fresh garlic
1 can (28 oz.) diced tomatoes
2Tbsptomato paste
4 Tbsp Chipotle pepper paste (comes in cans packed in adobo sauce, just puree to a fine paste)
1 cup water or stock
Salt and pepper
Chopped fresh cilantro
Method:
Salt and pepper meat and brown in a hot cast iron or heavy bottom pan with olive oil a little at a time, add to crock pot when done. (It does not need to be fully cooked at this point, just browned.)
Sautee onions in the same pan (without cleaning) 5 minutes. Add to crock-pot.
Sautee peppers (both colors) and add to crock-pot. Add garlic and spices to the pan and sauté about 30 seconds to 1 minute till fragrant
Add Chipotle paste and tomato paste and sauté a minute more, and then add some of the water or stock to the pan and stir off any brown bits (fond) from the bottom of the pan. Pour into the crock pot with the rest of the ingredients.
Add celery and can of tomatoes to crock pot with the rest of the water or stock and then turn on high until it comes to a light simmer. Turn down and cook for another 25-30 minutes if using top round. For bottom round cook for 1 1/2 hours total.
Add chopped fresh cilantro and garnish with sour cream and chopped red onions if desired.
Per portion without rice made with beef top round:
Calories 297
Fat 15g
Protein 27g
Carbohydrates 14g
Dietary Fiber 4g
To Serve:
Serve with brown rice for a complete meal.
6 – Coconut Curry Seafood Stew with Sweet Potatoes
Makes 6 portions
Ingredients:
1 Tbsp. minced garlic
2 Tbsp. minced fresh ginger
3 Tbsp. green or red curry paste
1 Tbsp. kosher salt
1 can coconut milk
1 cup water
2 small sweet potatoes
1 large yellow onion
1 zucchini
1 yellow squash
3 carrots
10 large mushrooms
16 oz. jumbo shrimp
12 oz. scallops
12 oz. tilapia or other white fish cut into cubes
3 large green onions, including green parts
1 bunch chopped fresh cilantro
Method:
Dice all vegetables and combine in large oven safe pan.
Cook covered at 375 degrees for about 40 minutes or until sweet potatoes are almost fork tender.
Add the shrimp, scallops and fish and cook for another 12-15 minutes.
Garnish with green onions and cilantro when serving.
Per portion without rice:
Calories 381
Fat 16g
Protein 36g
Carbohydrates 27g
Dietary Fiber 6g
To Serve:
Serve over brown or black rice.
7 – Roasted Turkey Breast Stuffed with Spinach and Walnuts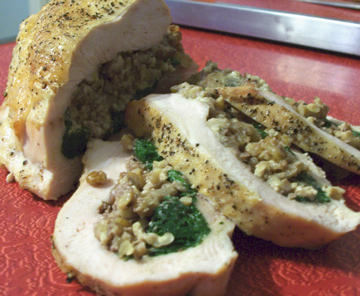 Makes 6 portions
Ingredients:
1 large fresh turkey breast, boneless and skinless (average 2 lbs)
4 cups fresh spinach washed or 2 cups frozen
4 Tbsp. roasted garlic or 2 Tbsp. fresh raw
1/4 cup walnuts lightly crushed
Salt
Fresh ground black pepper
Olive oil (not extra virgin)
Method:
Pre-heat oven to 400 degrees. Butterfly Turkey Breast (cut along side and lay out flat leaving attached at one end like a book) and lay out flat on cutting board. You can pound it slightly to flatten a bit if you want.
Rub both sides with olive oil and season well with salt and pepper.
Lightly wilt spinach in non-stick pan, or if using frozen just thaw.
Spread roasted garlic paste onto one half on inside of turkey breast.
Sprinkle with crushed walnuts.
Place spinach on top of walnuts.
Fold top over and place on a rack fitted inside a sheet pan or roasting pan.
Place turkey in oven and bake for 20 minutes on 400. Then reduce heat to 325 and roast for an additional 30 minutes, or until inside stuffing reaches 145 degrees.
Let rest for 15 minutes before slicing.
Per portion:
Calories 302
Fat 15g
Protein 37 g
Carbohydrates 6g
Dietary Fiber 306g
8 – Cranberry Orange Muffins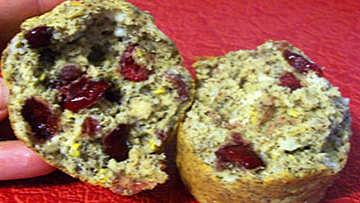 Makes 6 muffins
Ingredients:
Dry:
1 scoop Orange Metabolic Drive Protein Powder
1/2 cup buckwheat flour
1 cup oats
2 tsp. baking powder
2/3 cup Splenda
Wet:
3 whole eggs
1 cup milk
1 Tbsp. vinegar (apple cider or white)
1 cup cottage cheese
2 Tbsp. pure vanilla extract
Garnish:
zest of 1 orange
1/2 cup dried cranberries
Method:
Pre heat oven to 350.
Using silicone muffin cups or regular lined muffin tins, spray lightly with non stick spray or rub with oil if not using liners.
Combine dry ingredients in a large bowl.
Combine wet ingredients separately in a small bowl.
Add garnish ingredients to wet and fold in.
Make a well in the dry ingredients and pour the wet ingredients into it.
Gently mix together the wet and the dry ingredients until just combined. DO NOT OVER MIX!
Fill muffin cups and bake at 350 for 25 minutes or until a knife comes out clean. DO NOT OVER BAKE!
Let cool slightly, then remove from cups and eat warm. Muffins can be frozen and re-heated also.
Per portion:
Calories 189
Fat 6g
Protein 16g
Carbohydrates 20g
Dietary Fiber 3g
9 – Oatmeal Pancakes with Crustless Quiche
Makes 6 large pancakes
Ingredients:
2 cups rolled oats
2 cups buttermilk
Mix these two ingredients together and refrigerate overnight (or for at least an hour).
2 eggs lightly beaten
1/2 cup buckwheat flour
1 tsp. baking powder
1 tsp. baking soda
1 tsp. cinnamon
2 Tbsp. Splenda
Method:
Preheat the griddle to a medium high setting.
Stir eggs into the oatmeal until well blended.
In another bowl mix flour, sugar, baking powder, soda, and cinnamon.
Add to oats mixture and mix. Batter will be thick.
Drop by large spoonfuls on griddle.
Serve with warm sugar free maple syrup (or apple or other fresh fruit toppings are good as well).
Per portion:
Calories 192
Fat 4
Protein 11g
Carbohydrates 30g
Dietary Fiber 4g
To Serve:
Serve with crustless quiche for a complete meal
Crustless Quiche Base
Makes 4 portions
Ingredients:
6 whole eggs
8 egg whites
10 oz. cottage cheese
Salt
Fresh ground black pepper
Vegetable of your choice
Method:
Blend together eggs, whites and cottage cheese until well combined. Add salt and pepper and stir well.
Fill muffin cups with vegetable mixture of your choice.
Top with egg mixture.
Place in preheated 400-degree oven for about 15-20 minutes or until just set. If using a large baking dish, cook for about 20-30 minutes or until just set.
Let cool, then pop out of pan. Can be stored in fridge for about 4-5 days.
Per portion:
Calories 183
Fat 7g
Protein 24g
Carbohydrates 4g
Dietary Fiber 0
Can be baked in:
Muffin cups lined
Muffin cups sprayed with non stick spray
Silicone muffin cups, no spray or liners
Small ramekins*
Large ramekins
Soufflé Dish
Large pie plate or cake pan
Glass baking dish
Individual mini tin dishes
Large tin dish
Large non stick sauté pan oven proof
Cast iron pan
Editor's note: We have no idea what a ramekin is. We're not sure we'd admit it if we did.
You now have no earthly excuse to subsist on fistfuls of lunchmeat, cans of tuna, and slabs of beef jerky. Get thee to the kitchen, Chef boy.