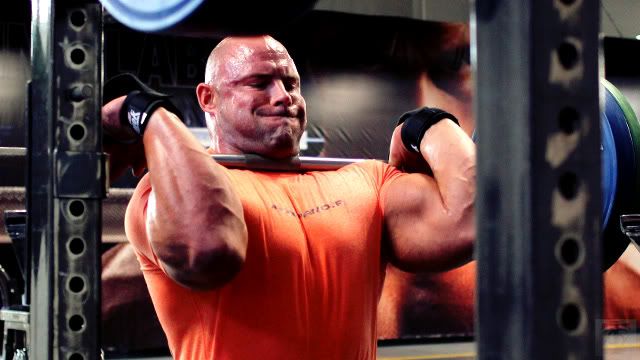 3 Things You're Supposed to Do... But Most Big Guys Don't!
Part 3: Use a Specific Workout
I personally never use a "workout." By that I mean use something written on a piece of paper that tells me exactly what to do. Instead:
I have a target area (either muscle group or lift to work on.)
I know what type of training effect I want to get.
I have a strategy to get that training effect.
I have a general plan/approach based on the strategy.
But the actual workout
evolves
during the session. I make decisions based on how my body is reacting.
I could never follow a specific program as planned. There's always an exercise that I don't feel properly and that throws me out of the zone. I always feel like I'm missing something. Sometimes I want to do more of something and sometimes it feels like I'm doing too much of something else.
Freedom Within Structure
The bottom line is that when I force myself to follow a specific workout I almost never have a totally positive experience and it kills my motivation. I believe in
freedom within a structure
.
The general structure/layering tells me how to orient my workout to get the effect I want, but I have freedom regarding exercise choices and the actual loading scheme and training methods I'll use to get the effects desired.
Here's an example of a structure that I use:
1.Get a pre-pump in the main target muscle without causing fatigue.
This loads the muscle with nutrients before doing the hard work, and it enhances the feeling of the muscle so you can better contract it during the high-threshold work.
2.When the pre-pump is established, I move on to high-threshold work.
The goal is to fully stimulate the fast-twitch fibers, maximizing muscle performance.
3. When the high-threshold work is done, I do maximum pump work for the main target muscle.
The purpose is to fill the muscle with as much blood and metabolites as possible to bring as many nutrients to the muscle as possible, as well as stimulate the release of a high amount of local growth factors.
4.When I reach maximum pump, I want to use an exercise that will load the muscle while reaching a stretched position.
This will stretch the fascia, giving more room for growth as well as sensitize the IGF-1 receptors in the muscle.
I have four things to accomplish in a certain order to get the most out of my workout. I do not move on to the next step unless I achieve the goal of the currect step. I'll select the exercises, methods, and loading scheme that will help me achieve each step with the least wasted effort.
Most really muscular or strong guys work like this instinctively. While some do use a specific program, they'll modify it on the fly to get the most out of their workout. The basic workout plan gives them a structure, but they allow themselves enough freedom to make adjustments to maximize their gym time. -- Christian Thibaudeau
Training, nutrition, or supplement questions? Spill them below!
Indigo Resources:
Store Page and Autoship Info
Original Indigo-3G Article
What To Expect
Basic Carb Guide
Things to Avoid While on Indigo-3G
Long Term Usage Strategies
5 Tips for New Indigo Users