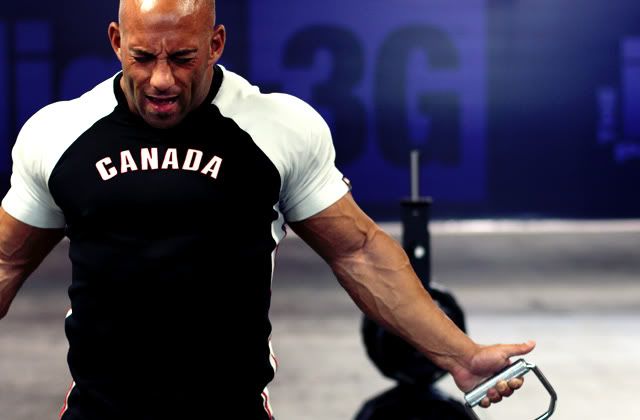 The 13 Lessons of Bodybuilding: The Pump, Arms Days, Training Frequency and More!
I'm a performance guy, and I believe that any muscle you gain should increase your capacity to
do stuff
, not just be a cosmetic thing.
Because of this, it's sometimes tougher to train bodybuilders. They're less open-minded to non-traditional training approaches. But when I find a bodybuilder that's open-minded, I do like to work with them. They're disciplined, and they're cool subjects to see the immediate visual effect of what I'm trying to accomplish.
Recently, I worked with a Canadian bodybuilder whom I helped win his pro card, mostly by improving his back. I helped Daryl Gee add 12 pounds of muscle while dieting down for a contest, and I worked for years with Amit Sapir, starting when he was a 165 pound amateur, helping him win a pro card at 195 then qualifying for the 202 Olympia. During that same time, I also trained five amateur bodybuilders in Canada who either won or placed top three at their contests.
So I don't dislike bodybuilding, but I will say that it's harder for me to find a bodybuilder I like to work with than finding an athlete I like to work with. But when I do find that bodybuilder, I have fun training him.
All that is to say that I love to help someone add more muscle to his frame. And in doing so, I learn quite a few things. Here are some of them:
The 13 Lessons of Bodybuilding
1. The "pump" is an important part of building muscle. It increases nutrient transport to the worked muscle (so without proper peri-workout nutrition, pumping is pretty much as waste of time), releases local growth factors that will stimulate protein synthesis, and it can help improve mind-muscle connection. The problem is that if you're spending too much energy and resources to achieve that pump, your results will suffer.
2. Achieving a significant, but not extreme, pump prior to doing your high threshold work will magnify the gains you get from that performance work. It does so mostly by improving your mind-muscle connection during the big lift: if you pre-pump your chest (without fatiguing it) before doing heavy bench pressing work, you'll feel the pectorals more in the movement and thus will be able to better recruit them and make small technique changes to maximize its contraction. I also believe that pre-loading the muscle with nutrients, before doing high-threshold work, will increase your gains.
3. Going for maximum pump once you've done your high-threshold work will significantly improve the recovery from the heavy work. It does this by maximizing nutrient transport to the muscle as well as via local growth factor increase that are necessary for the reconstruction process following heavy training. The high-threshold work gives you the mechanical stimulus, the nutrient uptake brings the "bricks" necessary to re-build the house, and the growth factors are the construction workers that put it all together.
4. Once maximum pump has been achieved, doing a low-intensity lifting exercise that puts the muscle in a stretched position will also help you get more gains. The loaded stretch helps stretch the fascia (which will give you more room to grow muscle) and also increases that muscle's sensivity to IGF-1. So the loaded stretch makes you more responsive to the growth factors you produced during the training.
5. So strictly for maximizing muscle growth, the following layering is very effective:
Pre-pump the focus muscle without fatiguing it.
Do your high-threshold work.
Move on to maximum pump work.
Finish off with a lifting exercise that puts the muscle in a stretched position.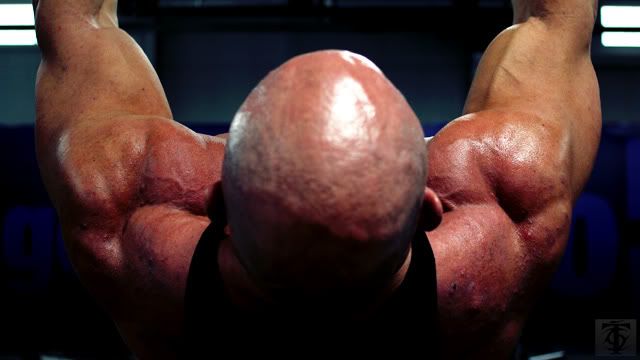 6. Frequency is king, even when training for maximum hypertrophy. This is why I normally have bodybuilders train each muscle group directly twice a week. And if they have a glaring weak point, we use a specialization approach where we train that muscle three times during the week -- decreasing the amount of work for other muscle groups.
7. As I said, I'm a performance guy. So when lifting, my goal is to get the highest force production possible. But with bodybuilders, performance can take on a slightly different meaning. For them I think in terms of
muscle performance
not lift performance. Lift performance refers to producing as much force in a movement (external force) as possible, whereas muscle performance refers to contracting a muscle as hard as possible (internal force).
It's the same idea really -- contracting a muscle fast and hard is performance, and it's a skill that needs to be trained. And when a bodybuilder does high-threshold work, that's what he should be focused on: contracting a muscle as strongly as possible. Do not focus on the weight, but on how the muscle is being loaded.
8. When training athletes I don't like to include a lot (if any) direct arm work. Simply put, for what they need to accomplish it's not necessary and training ressources are better spent elsewhere. But bodybuilders do need to actually over-develop their arms because what is seen as "balanced" in bodybuilding requires arms that would be considered out of proportion according to real-world standards.
9. I do not have bodybuilders train arms like other muscles. I don't like the idea of heavy lifting for biceps and triceps (isolation work, I mean). From experience, these will kill the elbow joints and mess up your capacity to perform on the bigger muscle groups. So if someone has to do direct biceps and triceps isolation work, I prefer a strictly pumping approach.
10. I also don't like using an arm day. I'm not opposed to it, but personally I find these boring and never get much out of them. I prefer to do pumping work for biceps between sets of pressing, and do triceps pump work between sets of pulling. This actually enhances the effect of the main training on that day.
11. While I personally do not need any direct calves work, a lot of people do. Prowler pushing is one of the best ways to build big calves. But another simple trick to build your calves is to pump them up before doing lunges and romanian deadlifts. The calves are heavily involved in maintaining balance during lunges and having them do that job when they're fatigued (thus must recruit more fibers) is a very powerful stimulus.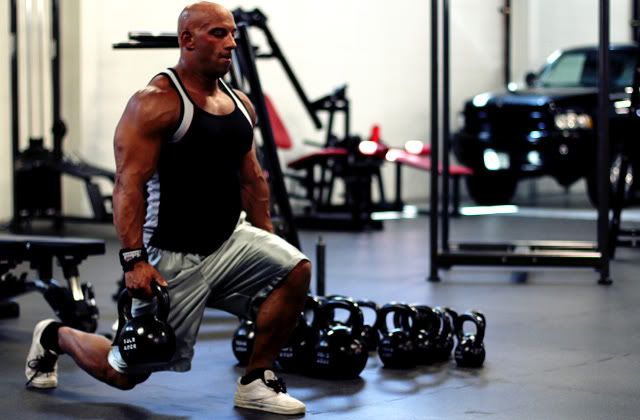 The calves are also an anchor point during deadlifting, especially during the straighter leg variations. So an easy way to build calves without even thinking about it is to do a pumping set of calves before every set of lunges and romanian/stiff-leg deadlifts.
12. The biggest benefit of neural-based training exercises (e.g. Olympic lift variations, jumps, throws) for bodybuilders is to improve the general capacity of the nervous system to recruit fast-twitch fibers which are more prone to growth. When I competed in Olympic lifting I'd do Olympic lifting exclusively for most of the year. But during the summer I'd switch to a bodybuilding regimen. In two months I'd gain more muscle than most bodybuilders did in a year. This was mostly due to priming the body for growth by improving neural efficiency.
13. Using the perfect peri-workout protocol --
Anaconda
, MAG-10, FINiBARS -- is absolutely vital if you use more of a bodybuilding-style of training or rely on pumping work. For pumping to work, you absolutely need to have the blood loaded with the proper nutrients, otherwise you're basically wasting the workout. -- Christian Thibaudeau
Training, nutrition, or supplement questions? Spill them below. We're here to help!
Indigo Resources:
Store Page and Autoship Info
Original Indigo-3G Article
What To Expect
Basic Carb Guide
Things to Avoid While on Indigo-3G
Long Term Usage Strategies
5 Tips for New Indigo Users