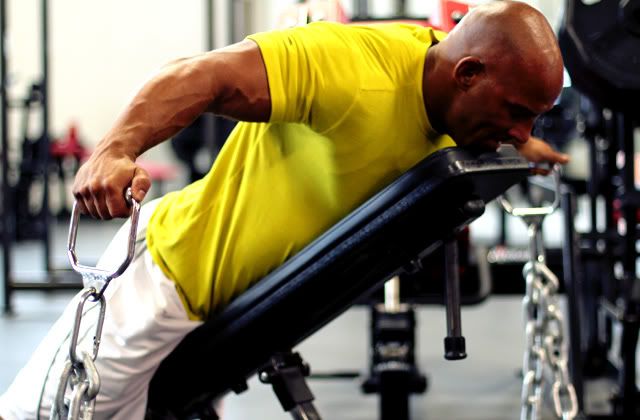 Partial Reps for Partial Results? Not Always!
There are many points of discord in the muscle-building field: high volume vs. low volume, high reps vs. low reps, slow tempo vs. explosive, whole body vs. bodypart split, etc.
However, if there's one issue where there seems to be little dissagreement it's the need to perform movements over their full range of motion. We can all agree that these are the only way to go, right? After all, we've all made fun of the quarter leg pressers, so surely partial reps are to be frowned upon.
Not so fast!
While doing exercises over their full, effective range of motion (which is different than full range of joint motion) is important for complete development, partials shouldn't be thrown out. In fact, in some cases they're more effective than full reps. Partials are a powerful tool if used properly. Here are some of those instances:
1. Partials for Maximum Muscle Overload
You can obviously use a lot more weight on partial exercises than on the full movements. For example, you can half-squat more than you can full squat, and you can bench press more weight if you lower the bar only halfway down.
You have to understand that although the muscles are not hitting all the points in the normal range of motion, the muscles involved in the exercise are still placed under load. In fact, the intramuscular tension produced in the muscle during heavy partials is greater than during a regular rep because you can use more weight.
That overload of the muscle-tendon complex can be effective at improving your capacity to handle big weights. It strengthens the tendons and it desensitizes the Golgi Tendon Organs. By doing so, you increase the capacity of your muscles to showcase strength because of the higher inhibition threshold. In other words, your body allows you to use a greater proportion of your strength.
Over time this will allow you do get stronger on the full lifts. And when you do so, you're able to better load the muscles, thus stimulating more growth.
I will say that partial overloads have varying degrees of efficacy depending on the movement and individual. Not everybody responds the same to partial lifts. While everyone can make their tendons stronger and desensitize their GTOs, only about 30% of the population gets a direct transfer in strength gains from partial to the full movement.
These lucky individuals will be able to gain strength almost equally over the full range of movement by doing heavy partials. Most will have some transfer of their strength gains, but that transfer will be greater at the angles being trained and will gradually decrease as you get further away from it. Finally, a minority of people (10-20%) will only get stronger at the range of motion trained.
Regardless of the category you're in, you can still benefit from heavy partials when it comes to building muscle. It?s only a matter of adjusting the duration of a set. For maximum growth, the muscles need to be loaded for a minimum of about 15-20 seconds (and some bouts up to 40 seconds can be effective).
A lot of people don't get size gains from partials simply because the duration of the set is too short. Let's say that a normal set of 6 reps takes you 24 seconds. You're right in the middle of the effective range. But if you do 6 partial reps the set will likely last about 9-12 seconds simply because you have to cover less distance with the bar.
In that case, you'll still stimulate some growth if you do enough sets, but the amount of gains relative to the effort won't seem worth it. But if you increase the number of reps or the duration of each rep to reach the 20 second mark, you'll stimulate a lot of growth because you'll have the proper combination of muscle loading and time under load.
2. Partials for Maximum Pump
While I'm a big advocate of high tension/high-threshold work, I still advocate pumping from time to time. Getting a pump can enhance your gains via several mechanisms:
A) It means a greater blood flow to the muscle (reactive hyperhemia) and if that blood is loaded with nutrients (due to the proper peri-workout approach -- FINiBAR, Anaconda, and MAG-10) you deliver more nutrients to the muscles being trained.
B) A pump occurs due to training a muscle in an hypoxic or semi-hypoxic state (contracting with restricted oxygen flow) and that hypoxic state also leads to the production of local growth factors like IGF-1 and MGF. These are very anabolic and will speed up the muscle-building process.
C) When a muscle is pumped you feel it better and it becomes easier to make adjustments to the execution of an exercise to properly load that target muscle. I call that
enhanced feedback
.
I like to create a small pump in the muscle before doing high-threshold work and also to reach maximum pump at the end of the main training for that muscle (after the high-threshold work has been done) and also to do maximum pump work for a small antagonist muscle. For example, biceps when training pressing movements, triceps when training pulling movements, hamstrings when doing squatting work.
In all of these cases, I want to create a maximum pump with minimal wasted effort. And I find that the quickest way to get a pump is to use controlled/constant tension partial reps. Why? Because during those controlled partial reps the muscle stays contracted (whereas during regular reps there's some relaxation occuring).
As long as the muscle stays contracted, blood cannot enter the muscle, so it can't bring in oxygen and bring out waste products. This creates the hypoxic state I talked about earlier. Furthermore, when contracting a muscle this way, blood will pool around the muscle, and when you finally relax the muscle it will rush into the muscle, getting a lot more blood in than you would normally. This is called
reactive hyperhemia
and it will help bring more nutrients to the working muscle.
For example, for biceps I like to do controlled partial reps at the top of the movement for 5-7 seconds, partials at the mid-point of the movement for 5-7 seconds, partials at the bottom part of the movement for 5-7 seconds, then as many full reps as is tolerable. This will get me a maximum pump in one-third of the volume needed to get it with normal reps. And this style of repetition requires a very low load -- I use about 60-70% of what I could do for 8 reps -- so it causes less negative impact on the nervous system.Remember, we want maximum pump with minimal fatigue.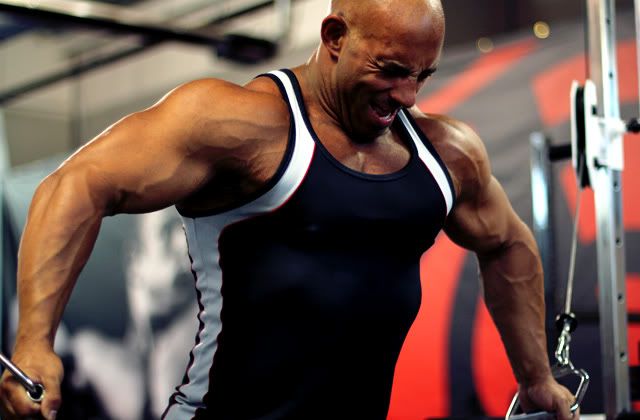 3. Weak Point Training
While only some lucky people will get a carryover from partials over to the full movement, everybody will gain strength at the trained angle and up to 15 degrees below and above the trained angle.
While this can be seen as a negative, it can actually be a very powerful tool to correct sticking points in a major lift. When you fail to make a certain lift, it's not the whole lift that failed, but only a small point in the range of motion where you're weaker. At that point, the bar will start to decelerate and lose momentum, and if it comes to a halt you fail to make the lift.
So you might very well be able to physically bench press 315 pounds, but one spot in the range of motion is only capable of 275, and that spot will hold you back. But you can use partials to strengthen that point in the range of motion.
You can do so by doing partial reps starting just above that weak point. Remember that even in the least lucky people, there will be a strength transfer of at least 15 degrees below the trained angle. So by working just above your sticking point you can use a heavier weight than you could normally while still being able to strengthen your weak point.
4. Stimulating As Many Muscle Fibers As Possible
While I'm all about performance, not fatigue (mostly because fatigue prevents you from working at your highest level) I still believe that maximally fatiguing muscle fibers can be effective if used at the right time -- when you have no more high performance work to do -- and at the proper dose (1 or 2 sets maximum).
The way I like to do it is to perform partial reps to failure at the end of a high-performance set. Let's say that I perform 3 reps with 90% on the bench press. At the end of those 3 reps, even though I'd be incapable of doing one more good full repetition, I still can pump up a few half reps, let's say that I get 5, then I can still pump up a few quarter reps -- say 3.
That added work will have a similar effect to drop sets: allowing me to keep the muscle under load for longer. But contrary to drop sets, I don't have to lower the weight. So the mechanical load on the muscle stays high. That approach will maximally recruit and fatigue the high-threshold fibers and will provide for a powerful growth stimulus as long as it?s not overdone.
5. Emphasizing A Specific Muscle Group
While many muscles are involved in a major movement, different muscles will contribute to varying degrees depending on the point in the range of motion. For example, the triceps will be more heavily involved during the last third of any pressing movement, the vastus medialis will be more involved during the last third of any leg pressing movement, etc.
So it's possible to use a heavy compound movement to focus on one muscle group, instead of having to rely on an isolation exercise. For example, partials at the top of a bench press to focus on the triceps, partials at the bottom of a bench press to focus more on the chest, top-half squat to build the VMO, rack deadlift to build the mid-upper back, etc.
As you can see, partials have their place in a solid training program, as long as you know what to use them for. As with any other method, you shouldn't look for ways to include partials, rather you should ask yourself what training effect you're after and establish which tool will be best suited to do the job. If partials are the best tool for the job, then use them! -- Christian Thibaudeau
Training, nutrition, or supplement questions? Spill them below!
Indigo Resources:
Store Page and Autoship Info
Original Indigo-3G Article
What To Expect
Basic Carb Guide
Things to Avoid While on Indigo-3G
Long Term Usage Strategies
5 Tips for New Indigo Users