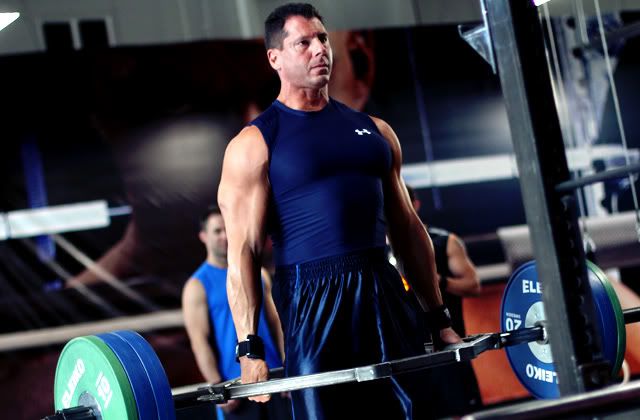 The Secret Life of Activation Energy
Every morning when you wake up, you're given a glass of willpower. This glass must last you all day. Use it up too soon and you'll run out just when you need it most, like before a training session or choosing what to eat.
Psychologists call this
activation energy
. Basically, it's the mental energy required to get stuff done.
When yours is low, it's easier to skip workouts or just go through the motions when training. It's also easier to give in and eat the foods that work against your physique and performance goals.
Shockingly, small actions can accumulate and sap your activation energy. For example, if you have to go home and change clothes before hitting the gym, you're not as likely to leave the house again as you'll talk yourself out of training. ("Crap, now I have to change, make my workout drink, and drive back to the gym...") Work, family life, stress, and decision-making all add up to sap your activation energy.
One researcher in this field solved this issue by actually sleeping in his gym clothes. That was one less thing to think about when he got up to train the morning. Fewer decisions and fewer choices = a higher chance of getting up and hitting the gym. Here are some other tips:
1. Make your workout drinks such as Anaconda and MAG-10 early and pack them with you.
2. Pre-make dinner so a goal-supportive meal is ready when you get home.
3. Keep a few training tools at your house and, most importantly, out in the open. Studies show that the activation energy required to get something out of the closet is enough to dissuade its use. (Musicians are more likely to practice if they can
see
their instrument and pick it up easily.) So keep your foam roller and bands handy, or keep your rings set up and ready to go. A trap bar in the basement or garage will get used more than a trap bar at your gym.
4. Let's say you decide to "pulse" MAG-10 every night before bed. The very idea of getting your MAG-10 out, finding a container, and mixing it up may prevent you from doing it if your activation energy has been used up during the day and you're tired and mentally frazzled. So, simply make your drink up that morning or the day before. When you're ready for it, all you have to is open the fridge.
Remember, the more stress you have, the more you need to pre-plan and "save up" as much activation energy as possible. -- Chris Shugart
Training, nutrition, or supplement questions? Spill them below. We're here to help!
Indigo Resources:
Store Page and Autoship Info
Original Indigo-3G Article
What To Expect
Basic Carb Guide
Things to Avoid While on Indigo-3G
Long Term Usage Strategies
5 Tips for New Indigo Users