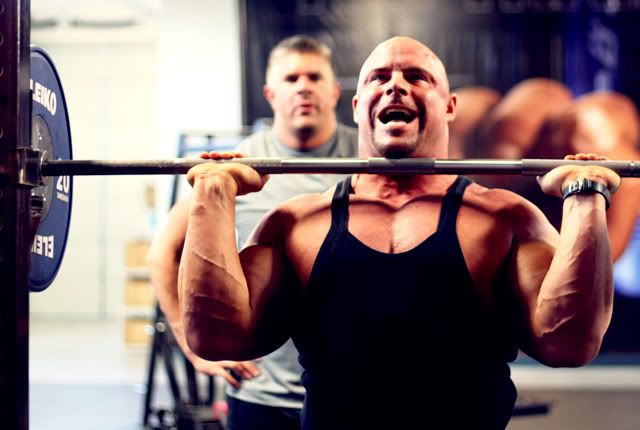 On Tuesday
I wrote about the drawbacks of isolation work, especially for the arms, when using our new training system. Disagree with me? Let's see if I've addressed your concerns below.
Point / Counterpoint
1. "Yeah, but didn't you write articles on arms training?"
Yes, I did! I will confess that there was a dark portion of my career as a coach and athlete where I got sucked into the bodybuilding milieu. I come from performance training (football and Olympic lifting) and that's how I trained most of my life. Before I even looked at a bodybuilding competition I'd trained over 400 athletes from 27 different sports.
But training is my passion, and learning new ways to stimulate the body is my drug. So at one point I got into aesthetic training because for me it represented a new challenge, something I didn't know much about and thus wanted to experiment with. One thing led to another. A lot of bodybuilders asked me to train them, and each body presented a different challenge. So for a few years I "liked" bodybuilding, not the sport itself, but rather the challenge of solving individual problem areas.
Since I didn't know much about bodybuilding, I went from what I could find on the subject and tried to blend my own methods in there, giving a 50/50 aesthetic/performance hybrid. All the while I kept on training my own way, mostly for performance with some occasional isolation work thrown in.
Gradually I came to the realization that typical bodybuilding training (training each muscle once a week with lots of volume, higher reps, slower tempo, isolation work, etc.) simply didn't work for average Joes not using performance-enhancing drugs. That's one of the reasons why I stopped working with bodybuilders: performance-enhancing drugs allow progress using almost any method. As a coach I like to experiment with methods and see how it affects the body. Kinda hard to do if everything you do works because of an enhanced physiological state.
At one point, I personally started to have negative effects from doing too much isolation work (mental fatigue, lack of motivation to train, joint pain, loss of performance) and that's when I said "the hell with this" and went back to what I always did to achieve results and what I loved doing in the first place: performance training!
2. "You say that fatiguing the delts the day before bench pressing could lead to injuries, yet you advocate exercises that involve all the muscles to some extent on a daily basis. How can you explain that?"
Good question! It comes down to unbalanced fatigue. The real danger is when 1) a muscle is more tired than the others involved in an exercise, and 2) when the local fatigue exceeds the neural fatigue. So if I do push presses every day, every muscle involved in the push press will fatigue to a certain level, so the next day the ratio of the potential of each muscle is the same as the day before. And the local fatigue won't be out of balance with the neural fatigue. So daily work on the main performance movements doesn't carry the same injury risk as doing tons of isolation work then doing performance training the next day.
3. "If my delts are overpowering my chest, don't I need isolation work to get my pecs to grow?"
In some cases, yes. If you have problems recruiting a muscle efficiently, then a short phase of isolation work for that muscle can be beneficial to learn to recruit and stimulate it.
But if you don't have activation problems, you should be able to stimulate every muscle using the basic movements (bench press work, overhead work, power snatch, power clean, lever work, dips /bulgarian dips, chins, deadlift/Dead-Squat, and front squat.)
If you still have problems making a muscle grow when doing all that, the problem might be in your lifting technique: bad positioning and incorrect body actions can inhibit the optimal recruitment of some muscles. So if isolation can sometimes be helpful to program muscle recruitment, most of the growth you'll stimulate will come from the big lifts done with perfect positions/techique.
4. "I understand how heavy pressing will build more triceps mass than dumbbell extensions, but can't I just do both?"
Let me answer this by asking another question: Considering that you have a limited amount of training money to spend (capacity to recover and adapt to training), what would be more effective? Splitting your training money between a very effective exercise and an exercise with a low level of effectiveness? Or using all your training money on that one very effective exercise?
My belief and my experience is that doing more work on the big-money movement will be more effective than taking some of that work away to spend (waste?) on a less effective one.
Take-Home Message
When selecting your exercises, always keep in mind that you have a limited amount of training currency to invest. Don't waste it on exercises that will not give you a large return on your investment if there are better choices to be made.
Isolation exercises aren't evil though. In some cases an isolation exercise might be the best choice (to cure a problem that's holding you back). But unless an isolation exercise fixes a problem and leads to a direct increase in performance, the investment isn't worth it. -- Christian Thibaudeau
Diet, supplement, or training questions? Spill them below!
Indigo Resources:
Store Page and Autoship Info
Original Indigo-3G Article
What To Expect
Basic Carb Guide
Things to Avoid While on Indigo-3G
Long Term Usage Strategies
5 Tips for New Indigo Users