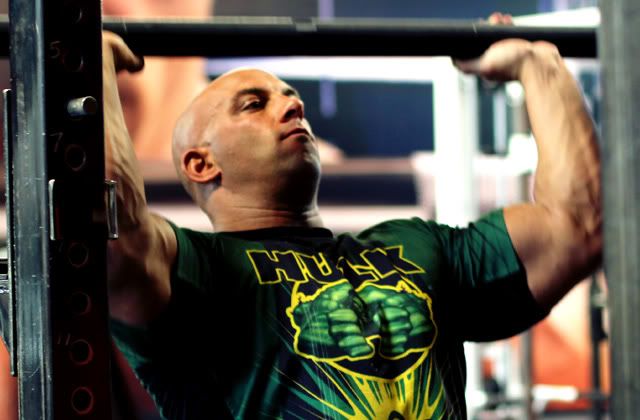 How to Get Bigger Arms With No Isolation Work!
The new training system we're developing is based on maximizing body composition through high-performance training methods. By using explosive and high-tension work on a select few special exercises, we program the body for dramatic changes in muscle mass and leanness.
The use of the Olympic lifts, power holds, jumps, ring exercises, basic strength lifts, and our own type of Prowler work creates the fastest physique changes possible. Not only that, by focusing on performance, your nervous system is amped up all day which improves your mood, overall well-being, focus, and mental performance.
No one who's tried the methods I've been talking about over the past month will dispute how powerful the results are. Heck, just the simple action of adding 7-14 daily jumps (in sets of one rep) to your regular training program produces rapid changes in workout performance and body comp.
"But What About My Guns?!"
However, the one thing I sometimes get asked is, "What about biceps work? I want big arms too!"
First of all, I'm not anti-isolation exercises. I believe they have their place in a program if they're used to correct a specific weakness that's limiting performance or to practice a certain position.
That said, it's my position that doing "bodybuilding-type" isolation work will hurt your progress with my training approach. Understand that the whole premise is to be able to perform optimally in the gym as often as possible. Excessive isolation work
will
impair performance. This is not even open for debate; it's just a matter of the extent of the negative impact.
Here are some things to consider:
1. If you "trash" your biceps, the next day the local fatigue will hurt your performance. If you try to do snatches or cleans, your pull will be negatively affected, ring work will greatly suffer (especially lever work), and pulling work will be more than sub-par. In fact, if you really hit your biceps hard, the performance decrease might last two to three days!
2. A good trashing of the biceps will lead to a lot of local inflamation that will reduce your mobility, which will hurt your power clean rack, front squat position, and your ability to reach the proper positions on the rings.
3. The same holds true for isolation work for other muscles. If you do tons of isolation work for your delts, how can you be at your best the next day on any type of overhead work: push press, military press from pins, overhead lockouts/holds, power snatches, or any form of pressing? You can't!
4. Isolation work increases your risk of injury and makes it harder to learn proper lifting technique. Why? Because doing a lot of isolation work for a specific muscle involved in a big exercise will make that muscle more fatigued (and thus vulnerable) compared to the other muscles involved in the lift.
For example, doing a lot of shoulder isolation work might leave the delts fatigued to a much greater degree than the pecs and triceps, thus creating a weak link that's more prone to injury during a bench press. Why more prone to injury? Because the stronger muscles will compensate somewhat, leading you to use a weight that, even if it's not your best, will represent too much loading for the shoulders.
5. Nothing that I tried built the biceps and brachialis better than ring work, especially the lever work. I got my biceps to progress this way after years of stagnation doing direct arms work.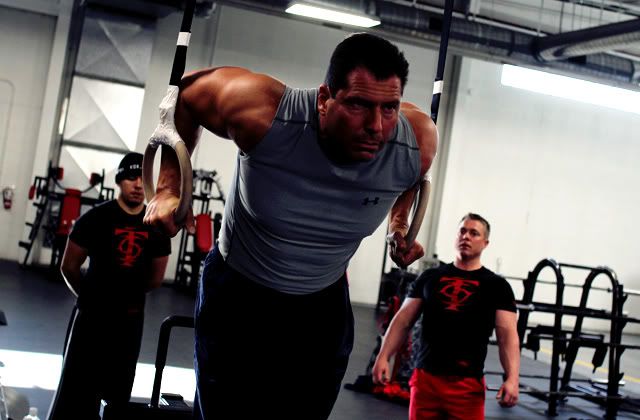 6. It doesn't make sense to think that a 35 pound dumbbell triceps extension or 100 pound cable pushdown will stimulate more triceps growth than heavy bench pressing work (floor press, bench from pins, reverse grip bench, etc.) and overhead work (heavy overhead lockouts/holds, push presses.) Why spend time on an inferior exercise that will just rob you of some "training money" with little reward?
7. If you're that worried about your arms, it's probably because they haven't grown much in the past decade, despite bombing and blasting them more often than not. What are you afraid of missing if you drop the direct arms work?
Now, I can already hear your counter-arguments coming, so tune in tomorrow, isolation lovers, and I'll address them in Part II! -- Christian Thibaudeau
Training, nutrition, or supplement questions? Spill them below!
Indigo-3G Resources:
Store Page and Autoship Info
Original Indigo-3G Article
What To Expect
Basic Carb Guide
Workout Nutrition Protocols
Things to Avoid While on Indigo-3G
Long Term Usage Strategies
5 Tips for New Indigo Users