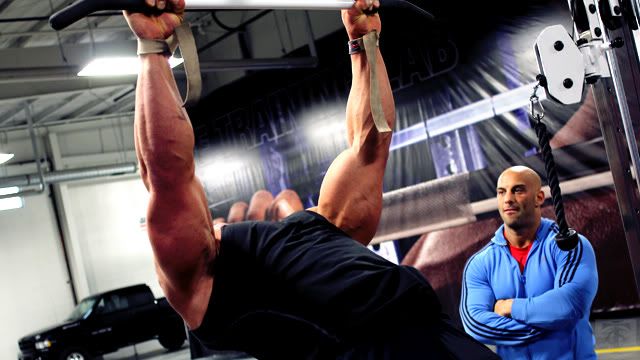 The Do's and the Don'ts
Don't perform an exercise or use a training tool because it looks cool or it's the "in" thing right now. DO perform an exercise or use a training tool because it's the best way to solve a problem.

Don't try to develop everything equally at the same time. DO focus on a maximum of three elements at once.

Don't trash a muscle group so that it will take 5-7 days until you can train it again. DO focus on being able to train a muscle on a daily basis while performing at a high level.

Don't be afraid of the complexity of the Olympic lifts. DO learn the Olympic lifts gradually because they will provide a tremendous training effect while improving shoulder health.

Don't include so many exercises in your program that you cannot work on mastering any of them. DO focus on a select few money exercises and work hard at mastering them. Become OCD about learning the fine details of each of these movements.

Don't work "chest", "biceps," "legs," etc. DO work movement patterns: pushing from down to up, pulling from up to down, pushing away in front, pulling horizontally toward you, standing up with the lower body, pushing with the lower body.

Don't focus on going slow on purpose during a lifting exercise. DO focus on lifting explosively. The only time the bar will not move with lightning speed is when lifting for maximum tension/force, but even then still attempt to produce as much power as possible.

Don't focus on the eccentric (i.e. the "negative.") It's overrated for muscle growth and will greatly increase the length of the recovery period. DO focus on high acceleration and high tension/force concentric actions as well as high tension holds (isometrics) in important positions. These will build the most strength and power, and require much less recovery time, allowing you to perform on a daily basis.

Don't neglect jumps. DO perform 7 to 14 single jumps during each training session. This will prime the nervous system, making the whole workout more effective while building explosiveness and increasing your lower body's responsiveness to training.

Don't train on rings with the purpose of getting to the most advanced positions as fast as you can. DO use the rings to work on perfecting body position, especially at the shoulder joint. Rings for us are a tool to create a certain type of contraction while being in position; it's not an end in itself.
-- Christian Thibaudeau
Training, nutrition, or supplement questions? Spill them below!
Indigo Resources:
Store Page and Autoship Info
Original Indigo-3G Article
What To Expect
Basic Carb Guide
Workout Nutrition Protocols
Things to Avoid While on Indigo-3G
5 Tips for New Indigo Users
Long Term Usage Strategies